LinkedIn Introduces Lead Gen Forms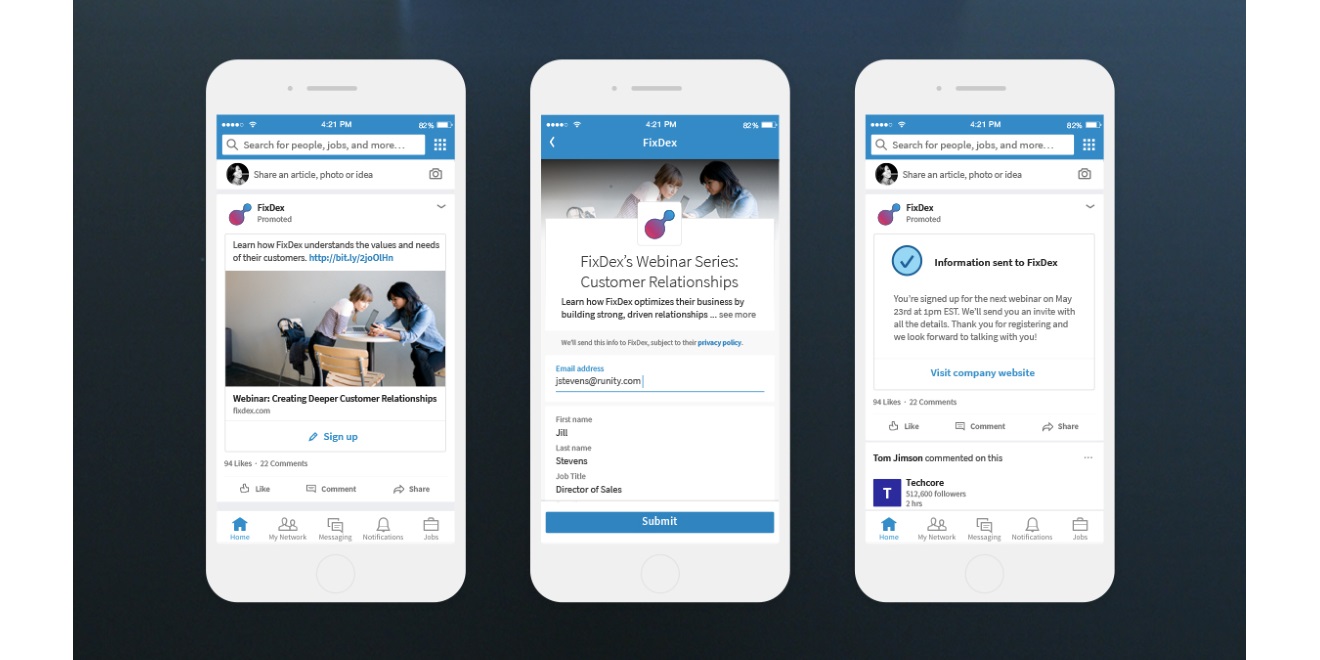 LinkedIn hopes new Lead Gen Forms will improve results for marketers
Marketing on LinkedIn is relatively expensive compared to other social media platforms like Facebook and Twitter. Consider CPCs for example: Facebook's minimum bid is often under a $1, Twitter's minimum suggested bid ranges between $1 and $2.50, while LinkedIn's suggested bid often starts at around $7.
While LinkedIn continues to be a great organic source of leads from B2B companies and affiliates because of its professional focus – it remains a challenge for paid marketers.
A Solution to the Lead Gen Gap
Eighty percent of engagement on LinkedIn Sponsored Content occurs on smartphones – where web forms don't perform as well. According to the social network, LinkedIn Lead Gen Forms eliminate a major obstacle to conversions – relying on users to fill out contact forms from mobile devices – by auto-populating an in-application form with information from user's LinkedIn profiles and allowing them to instantly submit their information.
Sponsored Content campaigns that incorporate LinkedIn Lead Gen Forms will only be served on its mobile app, but will be expanded to the desktop in the coming months, according to Divye Khilnani, who works on product management for LinkedIn.
In his blog post, Khilnani writes, "Once someone submits a Lead Gen Form, you'll get a comprehensive lead record that includes that person's name and contact info, company name, seniority, job title, location and more." This data should be more valuable, "because this lead data come from the member's up-to-date LinkedIn profile, [which] is typically more accurate and complete than what you'd get from traditional website forms, where people can enter false or partial information," Khilnani said.
In addition to acquiring contact information, advertisers can customize the Thank You page to include a link. You can link to blog posts or resources like whitepapers and webinars to drive traffic to your site, and help move leads down the funnel.
Survey Says
According to Khilnani, 90 percent of the 50 customers surveyed from the pilot beat their cost-per-lead goals. The Lead Gen Forms reduced the CPL for leads generated through traditional Sponsored Content campaigns. Those surveyed also believed that the leads generated from these campaigns were higher quality, and were more likely to convert into qualified prospects or sales opportunities.
Lead management is made easier, since you can download lead lists from LinkedIn Campaign Manager or sync leads with marketing automation management systems. In the future, marketers will be able to send their lead data directly to Marketo, Eloqua and Microsoft Dynamics accounts.
As social media platforms look to grow marketing revenue, they must continue to improve user experience and campaign results in order to keep advertisers happy, and grow budgets.
How do you feel about LinkedIn Lead Gen Forms? Do you think it will impact campaign performance? Or will it continue to be difficult to convert on LinkedIn?
Always follow industry best practices and all applicable rules and regulations with your advertising and marketing materials. ArrowShade takes compliance very seriously. We are also here to help. For questions regarding compliance, please email us at compliance@arrowshade.com.