Suspended – Most Common Reasons Google Suspends Local Listings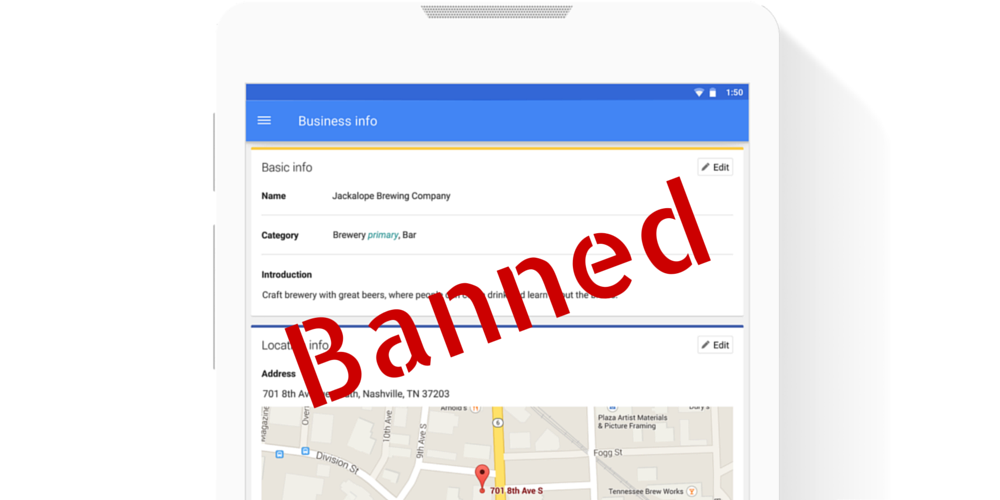 How to Re-Verify a Google Local Listing (Google Places)
Have you noticed a decline in local traffic lately? Can't find your Google local listing? Your business listing may have been suspended by Google.
A Google local listing (Google places) is one of the best ways companies can generate leads organically. A suspension can lead to the loss of significant revenue. To check if your Google local listing has been suspended, login to your Google business console. If your account has been suspended, you will see a banner across the header, stating, "suspended."
Don't Look to Google for an Answer
Google won't share reasons for the suspension with you. You won't be able to login and immediately identify the reason for your suspension. Why the lack of transparency? This is Google's way of making it hard for rule breakers to bend or get around the rules, which makes a suspension that much more frustrating.
Types of Google Suspensions
There are two main types of suspensions. The first is referred to as a soft suspension. You will be able to log into your My Business console, but you won't be able to manage your listing. You will also see the red "suspension" banner. However, you will still be able to see your local listing on Google and Google Maps.
Soft suspensions rarely impact organic rankings, but you will not be able to edit your account and it will become unverified. To rectify a soft-suspension you will have to create a new Google account, and reverify the listing using the traditional method. It would also be wise to stop breaking the rules.
The second type of suspension is a hard suspension, which I'm sure you've guessed is a more serious infraction. This type of suspension leads to the removal of your listing from Google, and subsequently you'll lose traffic and conversions. Once a listing has been removed from Google, it is very difficult to get it reinstated, and will require outreach to Google.
Here are the top reasons why Google suspends local listings:
You use a forwarding URL for the website URL
If the domain you are using for your local listing forwards to another URL your account can be suspended. Google states in its guidelines, "Do not provide phone numbers or URLs that redirect or "refer" users to landing pages." This can lead to a soft suspension of your local listing account.
Keywords in the business name field
Since keywords in a local listing often help businesses rank higher organically, some owners will include keywords in as many fields as possible. We know it's tempting, but try to hold back on adding keywords to fields like the business name. This can lead to a soft suspension from Google.
Service-area business address
Service-area businesses are not supposed to include a physical address in their local listing. However, many choose to include an address since it helps them get listed on Google Maps in addition to Google. Google's guidelines state that you can only include an address if customers actually show up at your business address.
Multiple verified listings for the same business
Seems like a no-brainer, but you cannot have multiple verified listings for one business. Google will soft suspend the original listing, and hard suspend the duplicate one.
Your listing uses a virtual office or mailbox as its address
An old SEO strategy was to buy mailboxes, and create multiple local listings account to point back to a website. This helped generate traffic for websites, because a) local listings are often ranked higher than search results and b) it added to the authority of the site. According to Google guidelines, your address cannot be a virtual office or mailbox. In fact, it's often impossible to verify an address from a mailbox. If you are caught engaging in this practice your account will be removed and hard suspended.
Has your Google listing ever been suspended? How did you re-verify your account? Do you have questions about local listings? Share in the comment section below.
Always follow industry best practices and all applicable rules and regulations with your advertising and marketing materials. ArrowShade takes compliance very seriously. We are also here to help. For questions regarding compliance, please email us at compliance@arrowshade.com.